ASKO Wine Climate Cabinet
Cutting-edge design and technology for cavemen and cellar dwellers
The closest you get to a cellar without going underground
The Asko wine climate cabinet is the most advanced way to take care of your wines. It has 3 independent temperature zones to preserve, age or serve your wine in optimal conditions. It also has a unique system to manage your wine collection: simply scan a bottle with the integrated camera or the app on your smartphone. Data is retrieved from the Vivino database and the bottle added to the digital inventory.
The lighting of the serving area can be set to any color you like. The wooden shelves and the chalk boards are a sign of craftsmanship, and make a nice balance with the embedded technology. The design with the glass door and elegant handle lets the cabinet blend in perfectly in a living space or restaurant.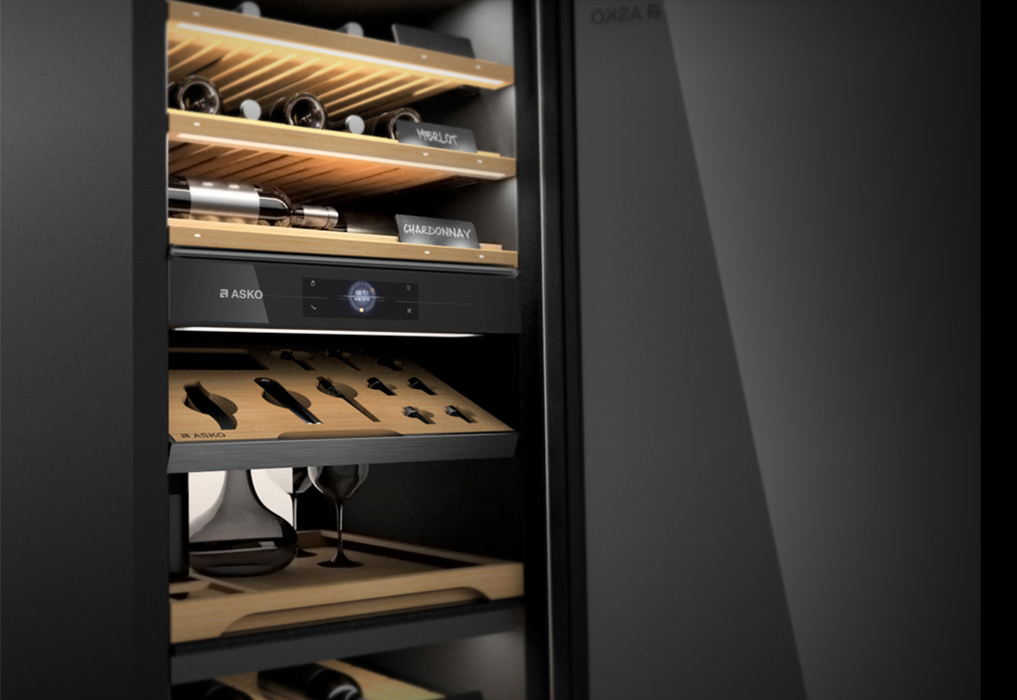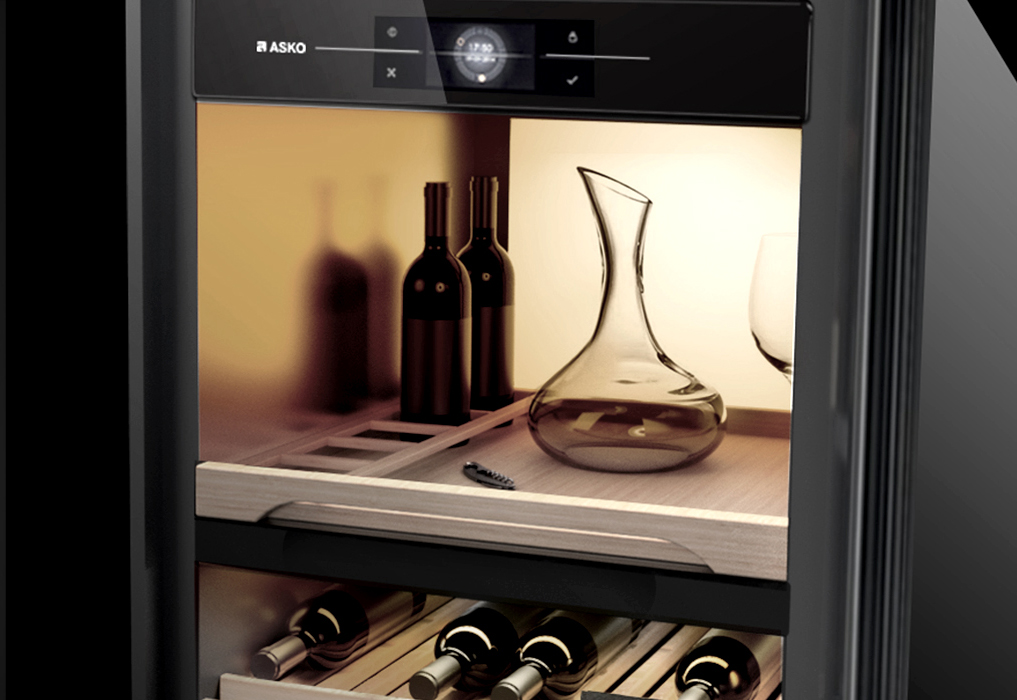 First step in our design process was to ask the experts: the users themselves. WAACS designers spoke with restaurant managers, sommeliers, vinologists, wine traders and diehard wine collectors. The bottom line was they all wanted back to the future: the conditions, charm and appeal of a traditional wine cellar but with the comfort and ease-of-use of the latest technology. With the insights of the experts WAACS designed a distinguished wine climate cabinet with embedded technology.

Listen to the silence and watch the darkness
The ASKO wine climate cabinet offers the perfect climate for storing wine and has all the features that a valuable collection deserves. It's capable of storing a large collection – up to 190 bottles – in the right conditions for preserving, aging or drinking. It features three individual controllable temperature zones, pure charcoal-filtered air, high-quality compressor that is virtually vibration-free and a sophisticated shelf system and layout. The three temperature zones are efficiently sealed off from one another, humidity is monitored, and the cabinet's glass protects the contents from UV light.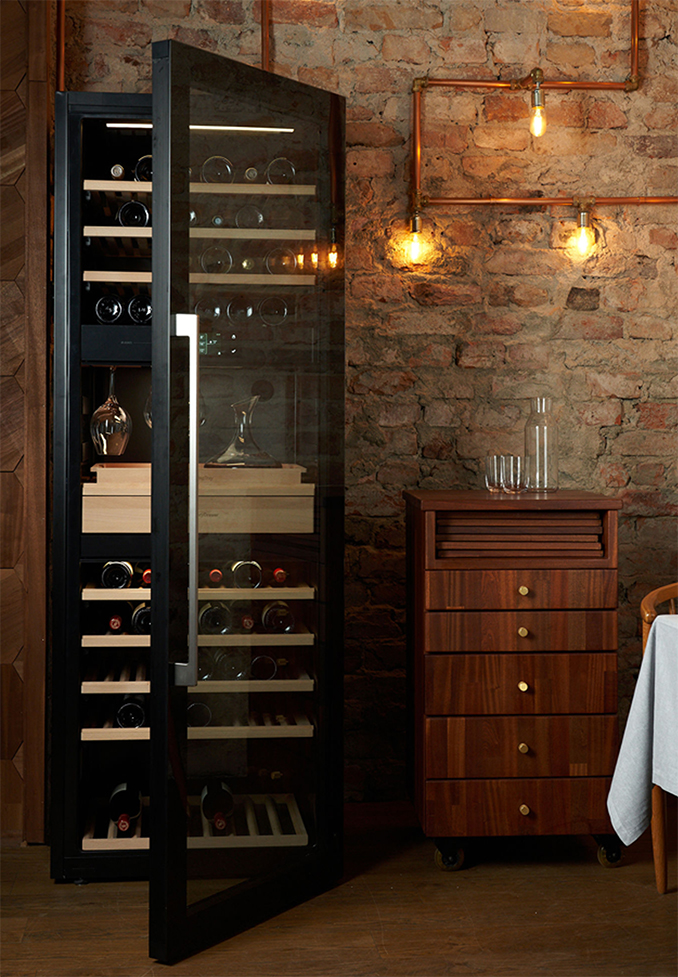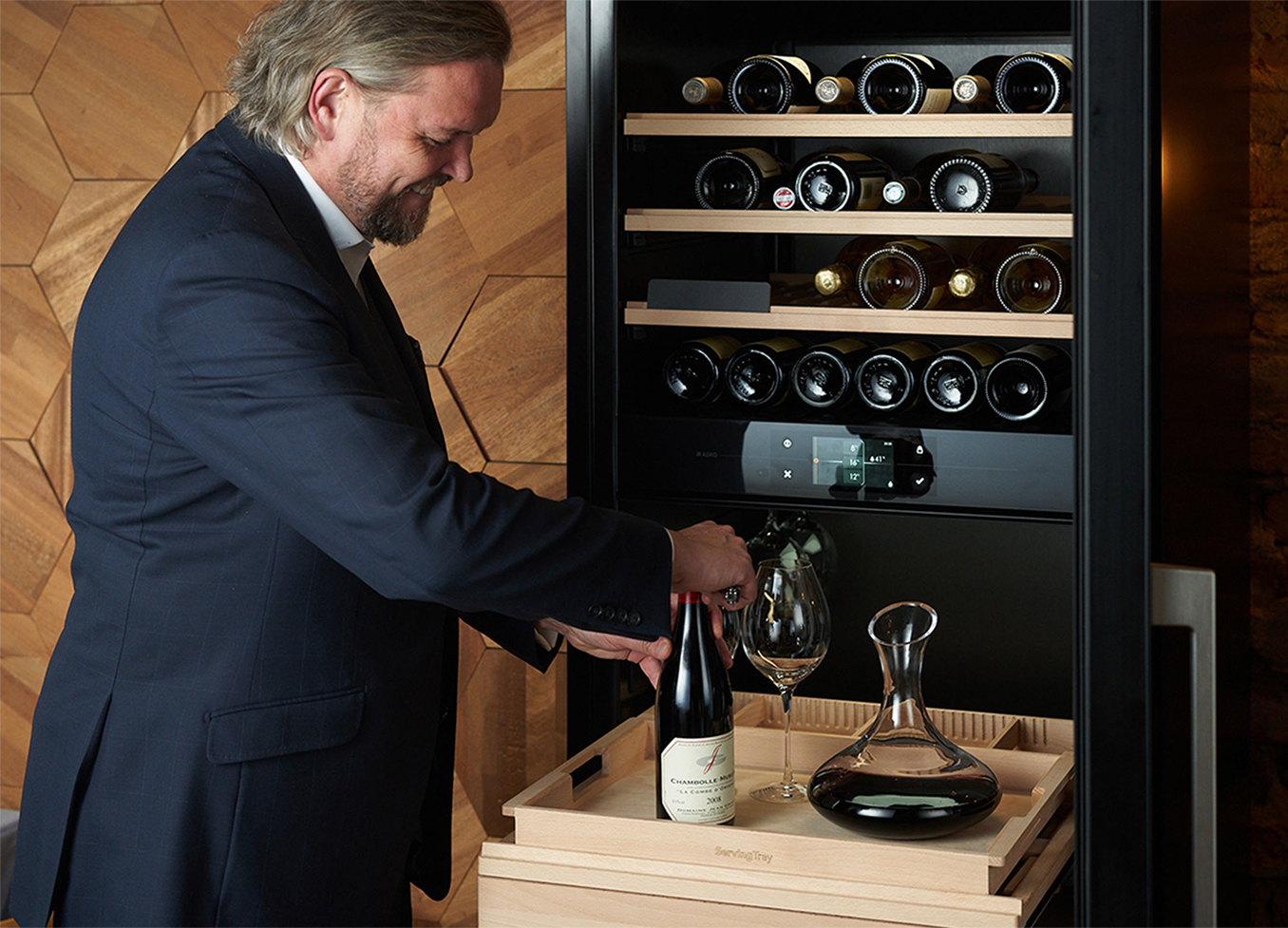 Teamwork makes the dream work
ASKO is a Scandinavian manufacturer that specializes in high-quality kitchen and laundry appliances. ASKO products are developed by combining traditional craftsmanship, user driven innovation and a passion for design. For more than a decade WAACS has been developing appliances together with the in-house design teams at ASKO in Sweden and the Netherlands.
In close collaboration we worked on washing machines, gas and induction cookers, hobs, hoods and refrigerators. In all projects user driven design has been the key success factor. The design of the ASKO wine climate cabinet is approved by international top sommelier, Andreas Larsson.
This beautiful wine cabinet is an exquisite piece of craftmanship. The entire wine experience has been meticulously planned to create a stunning showcase that wine aficionados will love. Every detail has been lovingly considered, from the quality of the joinery and accessories to the high-tech scanning of wine labels, storage options, cataloguing of the wines down to final selection, decanting and pouring.

iF design award 2021

Gold Statement